Seasons can be used to manage products which are sold only during a particular period. An example might be 'spring/summer' or 'fall/winter'.
A season can be used year-on-year or might be used only once. For example, if product ranges are updated every year, new SKUs are created and the previous SKUs made obsolete. The new SKUs can be assigned to the same seasons.
Activating seasons
Before you can create seasons, the feature needs to be activated within your account.
How to activate seasons
Go to Settings > Products / Inventory > Inventory settings
Select Yes against option Product Seasons
Click Save changes
Creating seasons
You can create as many seasons as you need, whether they change year-on-year or are only used once.
How to create seasons
Go to Settings > Product / Inventory > Seasons
Click Add season
Give your season a name and description - the description field is provided for recording extra information such as last order deadline, delivery dates, etc.
(Optional) Enter your season from and to dates - this is for internal information purposes only and does not limit the season in any functional way.
Click Save season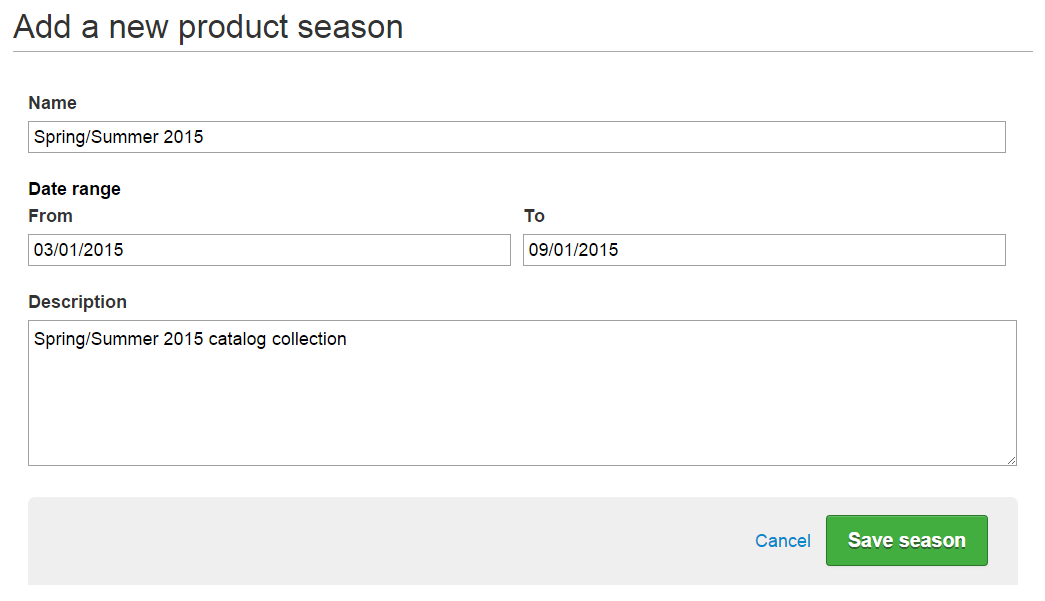 Assigning seasons to products
You can assign seasons to a product in several ways:
On the product edit screen
When importing products using a spreadsheet
Note that when assigning seasons to products through an import, the seasons must already exist in Brightpearl.
The season is assigned on the import settings page, rather than in the import file:
Assigning seasons to orders
If seasons are activated, every new order is automatically assigned to the "current season" so that it is only possible to add products from that season.
The "current season" can be selected at Settings > Products/Inventory > Inventory settings.
It is possible to manually edit the season on an order, which might be used when taking pre-season orders for example.
Deleting seasons
A season can only be deleted if it is not assigned to any products or orders. To delete a season, go to Settings > Products/Inventory > Seasons and click the delete icon next to the relevant season:
Reporting on seasons
"Season" is available as a filter on any report containing product filters, such as Sales detail and Sales by channel.
"Season" is also available as a filter on any report containing order filters, such as the sales list.
Video