This is where you can read about all the features we've introduced for Demand Planner. We will be continuously updating this page with any new features added. You can also learn about all our new features in the release notes updates that we regularly email.
March 2021 | Wholesale planning improvements
We've made improvements to the wholesale planning section to provide more flexibility to identify past wholesale orders. This can now be done by customer, warehouse, sales channel, or order status.
Wholesale planning helps indicate when to order inventory without spending money on stock before it is needed. Learn more about wholesale planning.
December 2020 | Production planning improvements
This month, we've made a number of updates to make demand planning for bundles and assemblies easier and more accurate.
Please note, these new features are not enabled by default as it requires you to set up an 'assembly time' against your assemblies to work correctly. As such, if you use Demand Planner for production management and you want this new feature enabled, let us know! This update will include:
Assembly Time
This is a new field that can be configured against your assembled items to represent the time it takes to produce new assemblies when component stock is available.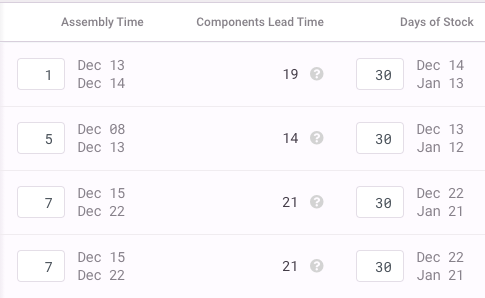 Component lead times
Individual component lead times are considered when Demand Planner calculates the time it will take for new components to arrive for an assembly.
Assembly forecast
Demand Planner now shows the forecasted stock of assemblies and their components as part of the forecast and replenishment breakdown.
October 2020 | Vendor alerts
If your vendors have a minimum purchase budget or a minimum purchase quantity, you may want to enable vendor alerts to receive a notification when the replenishment suggestion is approaching the min budget or quantity. We've added at setting at Settings > Forcast to enable this option.
September 2020 | Improved open-to-buy planning
We've made a few improvements to the Open-To-Buy (OTB) Planning tool available in Demand Planner. OTB planning creates a purchasing budget based on planned revenue goals, optimal stock cover, and cashflow requirements. This update introduces:
Improved planning by configuring forward stock cover (in place of 'spot cover') to meet planned revenue goals for upcoming months
Details about the effect of overstock on your inventory buying plans to meet revenue goals
Please note that if you've previously used OTB planning, your prior information for 'stock cover' will now show as 'spot cover'. For planning purposes, you'll now enter 'forward cover' to reflect how long inventory received in that month should cover for future sales. Read more about OTB planning here.
August 2020 | Produced bundles and assembly orders
Demand Planner now enables you to define produced bundles, i.e. products that are assembled prior to being added to stock/being made available for sale, and to create assembly orders based on the demand for the produced products. Once assembled, it's possible to post inventory adjustments to the back office in order to increase the availability of the finished item and to remove the consumed components.
You can read more about defining produced bundles here and about creating and completing assembly orders here.
July 2020 | Include/exclude order statuses in the forecast
You can now customize which orders statuses are considered in the forecast. This allows you to exclude statuses like 'On hold' or 'Potential fraud' so that these unconfirmed orders don't affect your replenishment suggestions. You can configure this new setting at Account > Settings > Connection Settings. Note that cancelled orders will always be ignored by the forecast.
February 2020 | Vendor price breaks
In Brightpearl it's possible to set price breaks for quantity break discounts. This is now respected in Demand Planner! When creating a purchase order and adding a variant with breaks in the vendor's price list, the unit price will automatically update depending on the quantity ordered. We'll also recommend increasing the quantity when a new price tier is available.
January 2020 | New purchase order screen
A new design for the 'New purchase order' screen means you can customize columns in your PO. Also, when creating a PO from a combined warehouse, you can now designate which physical warehouse will receive inventory.
January 2020 | Last sales forecasting method
We've introduced a new method to forecast demand called "Last Sales". This forecasting method is best for non-seasonal products. It is based on average sales for the last x number days, where you set the number of days. If the stockouts adjustment is enabled the forecast only looks for periods when the product was in stock. Trends are not considered with this forecasting method.
November 2019 | Send warehouse transfers to Brightpearl
Previously, Demand Planner would suggest how much inventory you should transfer to a warehouse but now it can create that transfer in Brightpearl too.
The resulting transfer will also be automatically fulfilled to a goods-out note, ready for your warehouse staff to process.
November 2019 | 'Transfer in' metric
On a warehouse transfer, the inventory is considered to be in-transit when it has been despatched from the source warehouse but not yet received into the destination warehouse. This inventory figure is now visible in Demand Planner via the 'Transfer in' metric and will affect your replenishment suggestions.
November 2019 | Set forecast date range by variant
You can now define the sales period used to calculate the forecast on a variant level.
The date range shown in the Replenishment report's upper right corner will apply to all variants unless you define custom forecast settings. Custom forecast settings are editable in the Details of a variant or using Bulk Actions.
November 2019 | Forecast method and replenishment details
When viewing Details, the forecast method is now shown along with critical replenishment data. This makes it easier to review factors that affect your forecast and replenishment suggestions.
November 2019 | Import forecast overrides and stockout history
It's now possible to import forecast overrides. From the Edit Forecast page, select Import and choose Forecast override to import either the units to sell per month or a percentage change.
It's also possible to import stockout history. Demand Planner tracks inventory levels from the creation of your Brightpearl account, but if you have stockout history prior to that date you can now import it directly into Demand Planner. This can help newer accounts to have a more accurate forecast more quickly. Read more about stockout history here.