The low inventory report lists all products which are low on inventory based on minimum stock levels (or re-order thresholds) defined against each product.
If current on hand inventory is equal to or above the product minimum level or the product has no minimum stock level set, it will not be displayed on the low stock report.
Minimum stock levels can be edited one-by-one directly within a product record, in batches from the product list or in bulk using the product import.
Products can also be assigned a reorder quantity. A reorder quantity indicates that the item must be purchased in batches so that even if only 1 is required to meet minimum stock levels a whole batch must be ordered. This is used only when placing orders for items on the low stock report.
Understanding the low stock report
Access the low stock report via Products > Low inventory report .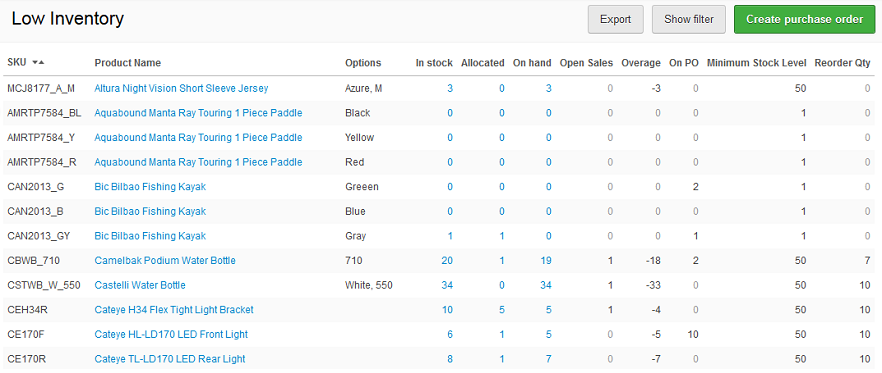 | Column Name | Description |
| --- | --- |
| In stock | The total number of items in stock. |
| Allocated | Total number of items allocated to sales and fulfilled to goods-out notes. |
| On hand | In stock quantity less allocated. |
| Open sales | The number of items on sales that have not yet been allocated or fulfilled. This excludes items on the "canceled" status. |
| Overage | The open sales less on hand, i.e. how many more items need to be purchased to fulfill all open sales. |
| On PO | Any items that are due in on purchase orders that have not yet been received. |
| Minimum stock level | The minimum quantity to be maintained on hand. |
| Reorder Qty | The batch sizes that must be ordered. |
Placing orders based on low stock
The low stock report can be used to create purchase orders for all items which are low on stock.
To use this functionality, products will not only need a minimum stock level but they will also need to be assigned at least one vendor (supplier):
To produce a purchase order from the low stock report it must be filtered by:
Warehouse
Vendor (supplier)
Once filtered, the report provides an estimate of the number of items to order by using the minimum stock level and reorder quantity. These figures can be manually edited in order to take seasonal and other forecasts into consideration:
Calculation for re-ordering
Order qty = Min stock level - Free stock - Qty on PO
Where
Free stock = Qty on hand - Open sales
The report will show free stock as a negative "overage". Once the order quantity has been calculated, it will be increased until it is a multiple of the re-order quantity (batch size).
Video