We recommend that you read our prerequisites and guide available  here before attempting an implementation.
Install the Shopify app
To begin connecting Brightpearl and Shopify you will need to install the app. This will create a new sales channel in Brightpearl for reporting on sales from the Shopify account.
How to install the Shopify app
In Brightpearl, go to  App Store .
Find the Shopify app and click  Turn on .
In the pop-up window enter the details of your first Shopify sales channel. Each field is described below:
Channel Name
Enter a name for this channel. This is how you will identify the sales channel throughout Brightpearl; in menus, on reports, orders and accounting.
Brand
Select a channel brand for this sales channel. Orders downloaded from this store will automatically take the company and logo set against this channel brand.
Price list
Prices are not synchronized with Shopify. This price list is used only as the default price list assigned to new customer records created through the integration. Every contact record requires a price list, which can also be considered a "customer group" in Brightpearl. Typically you'd use something like "Retail" - or you could create a dedicated price list.
Note : Additional settings for bank accounts ,  order statuses and warehouses  are defined within the ecommerce connector.
Connect a Shopify account
Once the app has been installed you can begin connecting Shopify accounts. If you don't yet have a Shopify account, start with a free trial  here .
Each account to be connected will need its own sales channel in Brightpearl - installing the app creates one for you. If you have additional accounts to integrate you can manually create more sales channels for Shopify.
How to connect a Shopify account
Brightpearl is linked to Shopify via the ecommerce connector. Go to the App Store , locate the Shopify App and click on the Set Up button.
Log into the connector using your Brightpearl user login details.
Once logged into the connector click to add a new store. Each ecommerce sales channel that exists in your Brightpearl account is listed.
Select the Shopify channel your wish to connect first (remember you can add more later).
Enter the URL for the Shopify store.

You are now taken to the Shopify app install page (you may need to log into your Shopify account). Install the Brightpearl app onto your Shopify account. Click Install to continue.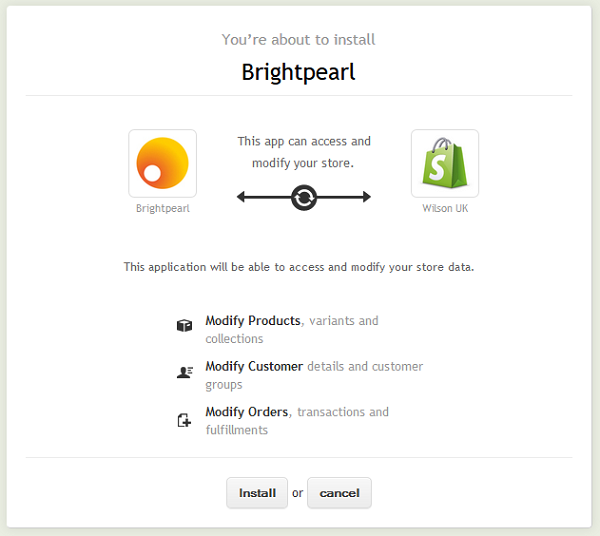 The account is added. A successful connection is indicated on the connector dashboard:
Your Brightpearl and Shopify accounts are now connected but the integration remains inactive at this stage. You will be able to import products before activating the inventory and order syncing.
For each of your Shopify accounts you will need to create a sales channel in Brightpearl and complete the connection within the connector.
Shopify store settings
Before you begin using the Shopify channel you will need to define the following within the connector:
Bank accounts
Two bank accounts can be assigned to each Shopify channel - one for PayPal payments, and one for all other payment methods. The Brightpearl account (nominal) codes for these bank accounts must be typed into the ecommerce connector.
Order status
When new orders download they will be automatically assigned the status chosen within the ecommerce connector.
Remember you don't need to use a new status for every channel to see where it came from, instead you can add the channel column to your sales list within My Preferences (per user).
Note that  warehouses  and  price lists  are controlled on the sales channel in Brightpearl. 
How to define Shopify bank accounts
Log into the the connector from the setup button on the app in the App Store. Log in using your Brightpearl user details.
Once logged into the connector select Actions > Settings for the relevant ekmPowershop store.
Enter the account (nominal) code for the bank accounts to post payments into (find these in Brightpearl at Accounting > List bank accounts).
Save the settings.
How to define Shopify new order status
Log into the the connector from the setup button on the app in the App Store. Log in using your Brightpearl user details.
Once logged into the connector select Actions > Settings for the relevant Shopify store.
Select the status new orders should be created on.
Save the settings.
Transfer Shopify products into Brightpearl
Brightpearl is going to be your "master product list", and your inventory levels will be managed from Brightpearl. All other product attributes, such as price, images, description and so on will be managed on your Shopify store. Each product needs to exist in both Shopify and Brightpearl with the same SKU so that they are able to be linked.
Products which only exist in Brightpearl will need to be exported and then imported to Shopify.
Products which only exist in Shopify will need to be imported into Brightpearl.
Shopify products can be downloaded into Brightpearl, creating the necessary product types, brands, options and option values, as well as weight, at the same time. If a product already exists in Brightpearl with the same SKU it won't be downloaded. All downloaded products will be added to a category in Brightpearl called "Shopify products". If this category doesn't exist it will be created during the product import.
Tax settings
Shopify lets you create a number of different tax rates for different regions. Orders will be downloaded into Brightpearl with the tax amount as defined by Shopify, and the tax code as per your Brightpearl default tax code - but only if the product is taxable and the customer is in a taxable region .
There are a few settings that you should check in your Brightpearl account before the product or order import processes are activated. This is because products and prices use the tax settings in your account.
Check that you are on the correct Tax mode at  Settings > Company > Accounting: Tax
Check your default tax code at  Settings > Company > Accounting: Tax
Check your tax rates at  Settings > Localization > Tax codes
You should also check the setting in Shopify at  Settings > Taxes  to see if your products are tax-inclusive (generally for b2c sites for VAT based stores) or tax-exclusive (Sales Tax based stores, and b2b VAT based stores).
Brightpearl stores and synchronizes product prices without tax, but Shopify can be set up to "show prices including tax". We use the Brightpearl default tax rate to do the calculations, since the accounting will all be happening in Brightpearl. If you can't edit the existing default tax rate in your Brightpearl account, create a tax code and set it as the default rate.
Price lists
When downloading products, the sell price on Shopify will be entered into the price list you have set for the channel.
Shopify does not have a field for cost prices, but since cost prices are important in Brightpearl for accounting you should ensure that you create an up to date cost price list for buying your products. This will ensure that inventory is added with an asset value and ensure that profit is calculated on your sales.
Inventory levels
The product download will only create products, it will not add inventory.
Variants
If a Shopify product has multiple variants, such as sizes and colors, the import will create a Brightpearl product for each separate SKU (one product per variant). The products are all created using the same product name which causes them to form a product group, each variant is assigned the relevant option value (e.g. Small or Medium or Large). If an option (e.g. "Color") and option value (e.g. "Red") of the same name already exists in Brightpearl it will be used for the product creation, where they don't already exist (or the names do not match) they will be created as part of the import.
Product options
Shopify is not strict with option values when you create variants, so you may have products with a variety of terms, such as "Small", "S", "Sm" and so on. When your products are downloaded into Brightpearl, we create the options and option values automatically - and each of these will be created as separate option values - but they all mean the same thing. Similarly, if you have products with "Option one = xxx", then update "Option one" to be something more relevant. It's harder to correct this once your products have been imported, so fix your Shopify data before you import into Brightpearl.  You can fix your Shopify data easily using their export / import process and some Excel tweaking. 
Non-stock tracked products
When you download products into Brightpearl, all items are downloaded as stock tracked items, even if they are set to "do not track inventory" in Shopify. This is because only stock tracked items can be fulfilled or drop-shipped in Brightpearl. If you never need to ship an item - perhaps it's a downloadable product - then you can set the Brightpearl product to "not stock tracked".
How to import Shopify products to Brightpearl
Access the ecommerce connector via Brightpearl, go to App Store and click Setup  for Shopify.
Log into the connector using your Brightpearl staff login.
Once in the connector select Action for the relevant channel.
Select Import Products from the drop-down.

Review the Brightpearl settings on the right-hand side.
Select whether to download all products or only those added into Shopify since the last download.
Check the box to confirm that your SKUs meet Brightpearl requirements.
Click the Download Products button to begin the download. The download will begin to work. You are able to carry on working in Brightpearl.
Activate the Shopify integration
No data will be uploaded or downloaded until the integration is activated from with the ecommerce connector.
There are three separate options to activate:
Inventory
Activating inventory sync will mean Brightpearl will keep your Shopify stock levels the same as they are in Brightpearl.
Orders
Activating order sync will mean any new orders received through your Shopify store will automatically download into Brightpearl. This will also create new customer records.
Sales receipts
Activating sales receipt sync will mean that orders are automatically marked as paid and the necessary accounting is created in Brightpearl.
How to activate the Shopify integration
Access the ecommerce connector via Brightpearl, go to App Store  and click Setup  for Shopify.

Log into the connector using your Brightpearl staff login.
Once in the connector select Action > Settings  for the relevant channel.

Check the channel settings on the right-hand side are correct.

New order status
This is the sales order status downloaded orders will be placed on. This is the default "New sale (quote) status" set in Brightpearl at Setup > Sales > Sales workflow .
Warehouse for allocation
This is the warehouse selected for inventory syncing on the sales channel in Brightpearl. New orders will also be assigned to this warehouse and inventory will be allocated to the order from this warehouse.
Select which options to activate. Note that once an order is marked as paid in Brightpearl accounting entries will be made and the payment will have to be reversed in order to cancel the order. If you plan on placing test orders you might want to activate sales receipt downloads later on.
Brightpearl manages inventory for this store
Select to update Shopify inventory levels each time the on-hand inventory level (of the same SKU) in Brightpearl changes. Inventory levels will not be updated until the next change is made.
Download orders into Brightpearl
Select to automatically download new orders received through your Shopify store into Brightpearl.
Create sales receipts in Brightpearl
Select to automatically mark downloaded orders as paid. This will create sales receipts and accounting for each order whether a payment has been received or not.
Bank account for sales receipt & PayPal sales receipts
Enter the nominal code for the bank account into which you want payments to be posted in Brightpearl, and another one for PayPal Payments - this can be the same. Find the code in Brightpearl at Accounting > List bank accounts .
Bringing your inventory levels in line
On hand inventory levels are sent to Shopify from the warehouse selected against the Shopify sales channel in within Brightpearl. Only inventory levels for matching SKUs will be uploaded to Shopify.
Inventory levels won't automatically become in sync across all your products since Brightpearl will only send inventory updates when the quantities change, for example, when items are received into stock, items are allocated to a sale or stock corrections are made.
This is a good time to run a stock take and update Brightpearl inventory levels, which will automatically push inventory levels to Shopify (for any that change). However, over time Brightpearl and Shopify will gradually come in line. Alternatively, we can run a full inventory level sync for you. Please speak to your implementation consultant or contact our Support team.
Inventory value & cost prices
It is important that you assign cost prices to products when updating inventory levels as these are used to calculate the value of your inventory and create accounting journals.
When these items are sold the value is used to record cost of sales and your overall profit on the sale of the item (except where cost of sales accounting = "No").
Cost prices are also needed when purchasing and receiving inventory from your suppliers. These values are, again, used for updating stock assets in accounting.
How to synchronize inventory levels on Shopify
This functionality has been temporarily disabled
Your Brightpearl implementation consultant can do this for you, otherwise, please contact our Support team who will be able to assist.
Access the ecommerce connector via Brightpearl, go to App Store and click Setup  for Shopify.
Log into the connector using your Brightpearl staff login.
Once in the connector select Action > Update Inventory Levels  for the relevant channel.

Connect additional Shopify accounts
Each Shopify account is added as a separate sales channel in Brightpearl allowing you to separate sales reporting. When the Shopify app is installed it creates a sales channel which is used for connecting to your Shopify account. To integrate additional accounts you will need to create more Shopify sales channels in Brightpearl.
You will then be able to repeat the same set up implementation steps.
How to create a new sales channel
Go to  Channels > Manage Channels .
Click the  Add Channel  button.
Select the type of channel you wish to create.
Enter a name for the channel - this is how it will be displayed throughout Brightpearl and how you will recognize where sales have been made.
Depending on the channel type, make the other necessary entries. Read the relevant channel implementation guide for field descriptions.
Save the channel.