Lokad is a merchandise planning and demand forecasting application for retail businesses with a steady number of products.
It analyzes your products, available and on order stock and historical sales to suggest either a:
Classic forecast
Forecasts demand over the next seven days and projected number of days of stock cover for each product.
Quantile forecast
Suggests automated re-order points, e.g. when you reach 5 units of a product in stock then re-order another 20 units.
It also enables you to optimize your inventory:
Avoid holding stock of slow selling lines tying up space on your shelves and use the money to invest in the business
Avoid losing out on revenue by running out of popular lines
Who is it good for?
Retailers with reasonably static product lines.
Who is it not suitable for?
Retailers with seasonal or fast changing product lines, e.g. apparel or consumer electronics.
How do I use Lokad?
Follow each of the following steps in order to take your data from Brightpearl to Lokad and perform your analysis:
Export product and inventory data from Brightpearl
You will need to export your product details and inventory levels from Brightpearl into an Excel file.
In Brightpearl, go to Products > List products / services .
Click the Export button at the top of the page.
In the pop up window, click to export All XXX remaining rows. This will export all your products.
Select the file type of Excel 95-2000 (xls).
Click the Export button to begin the export.
Save the exported file somewhere that you can find it later, and rename it to Lokad_Items.xls
This file will include all your product record details along with the current inventory levels.
Export sales order data from Brightpearl
You will need to export your sales order details from Brightpearl into Excel files.
First of all you will need a report displaying the relevant sales detail. The sales detail report can be customized using configurable columns.
In Brightpearl, go to Reports > Sales detail.
In the filters, add a column for "SKU" and "Quantity", then export the report.
The data can only be exported in batches of 20,000 lines at a time. If you have a larger number of items then export multiple files.
Save your file somewhere that you can find it later.
If you have multiple exports, then you can name the files Lokad_Orders_1.xls, Lokad_Orders_2.xls, etc. Any suffix will work as long as the file name starts with "Lokad_Orders", so you can also use "Lokad_Orders_2013_09.xls" for the sales of September 2013 for example. Salescast will merge all the files on its own.
Upload files
Now that you have exported and formatted your data from Brightpearl you need to upload your Excel files to Lokad - you can do this by clicking the "Files" tab within Lokad.
Configure the Lokad project
You will need to set your lead time and service level in Lokad as displayed below: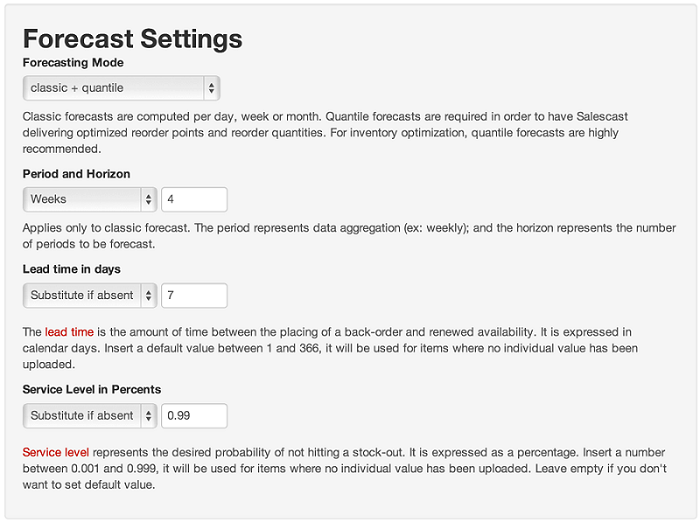 For the column "Header mappings", just do a cut-and-paste of the text provided by Lokad.
Run Lokad
You are now ready to run Lokad against your data set.
Analyze the forecasts
Classic

Read as: Over the next seven days ("Lead Time") we're expecting to sell "Lead Demand" units, which means that we have "Stock Cover" days cover.

Quantile

Read as: Over the next 7 days I want there to be a "Service Level" % chance that we'll have enough stock to cover demand - therefore re-order "Order Quantity" of this product when they drop below a level of "Reorder Point" in stock.
When we reach "Reorder Point" items on hand then order "Order Quantity" items.
Act on the forecasts
Manually make new purchases based upon the classic forecast.
Update Brightpearl with the new automated re-order points based upon the Quantile forecast.
Consider ordering more stock
Consider pulling forward a future purchase order
Consider putting this on offer to shift the stock if it isn't moving and it taking up space in the warehouse
Consider cancelling a future order for the stock
Frequently asked questions
How often should I run the forecast?
Before each re-ordering cycle - once per week for many businesses.
How much sales history data do I need?
As much as possible - ideally two years or more for forecasts that fully take into account seasonal differences.
What if I don't have all of my sales history data in Brightpearl?
You can combine a Lokad_Orders file with historical data with data from Brightpearl Sales Detail reports.