Price lists are used for recording prices for buying and selling products.
Brightpearl provides some standard price lists in every Brightpearl account - the number based on selections made during the signup process - but more can be added at Settings > Products/Inventory > Price lists .
Net or gross
All prices in the Brightpearl database are stored as net prices. When importing prices they must always be  net .
Price lists can be set as inclusive or exclusive of tax, allowing prices to be displayed in Brightpearl as net or gross. For example, UK users may prefer retail prices to be displayed inclusive of tax.  Brightpearl calculates the tax inclusive amount to display by taking the net price and adding the relevant tax value based on the tax code being applied at the time.
Any tax inclusive price in Brightpearl will be  underlined .
Sell price lists
Sell price lists are used to define customer groups such as retail, wholesale or distribution.
Any price list not set as a supplier "cost" price list is then a sell price list used for customers.
Price lists can be used to provide discounted rates to different types of customer - remember a customer can also be assigned a flat rate discount to apply to the price list they have been assigned.
The default price list assigned to new customers is set at  Settings > Contacts > Contact defaults .
Cost price lists
Cost price lists are used for recording the prices used for buying inventory from vendors (suppliers).
A price list called "Cost" is provided with every Brightpearl account. More can be added if required.
All price lists set as a supplier price list are "cost" price lists.
Where there are multiple vendors (suppliers) of the same item, separate price lists will need to be created. Where there is only a single vendor (supplier) of each product, then a price list can be shared.
Foreign currency price lists
Additional price lists are required when managing foreign currencies.
A price list cannot be converted into multiple currencies so a price list is required for each different currency used to sell and each currency used to buy.
Currencies will also need to be added and exchange rates added/downloaded in order to create foreign currency price lists.
Displaying price lists on products
If you have 14 or fewer price lists in Brightpearl you will see each one displayed as a tab within the product record. You can click between each price list to make any changes and then save at the end.
If you have 15 or more price lists in Brightpearl

 it is not possible to fit them all as tabs on the product record. Instead you will see a dropdown menu which allows you to switch and edit each price list. You will need to save after changing each price list. Use the "Save and stay here" to save changes but remain in the product record.
Price list SKUs
A product can be assigned a SKU against each price list. This can be used to record a vendor (supplier) SKU, or a customer SKU, so that when orders are placed they may use and see their own SKUs.
Managing prices
Prices and volume discounted prices can be entered manually on to products for each price list.
Individual item prices can be imported using the product import.
Individual and volume discounted prices (price breaks) can be imported using the price list import.
Exporting prices / price lists
It is possible to export a complete list of all products in a format which is ready for updating and re-importing at  Settings > Products/Inventory > Price lists :
It is also possible to export individual price lists with the current prices as csv. or .xls.
A specific price list export will list each product which has a price on that list, even if it is zero (where prices are blank the product is not exported):
Connecting suppliers to products
This action will identify all vendors (suppliers) which have been assigned this price list, and it will also identify all products which have either a price on this list and/or any of those vendors (suppliers) are assigned to the product.
It's purpose is to connect the vendors (suppliers) using the price list (the price list is selected on the vendor record) to the products which have a price on that list. Once run all those products will also have the vendor (supplier) set.
Setting a vendor (supplier) on a product is needed in order to create purchase orders using the low inventory report.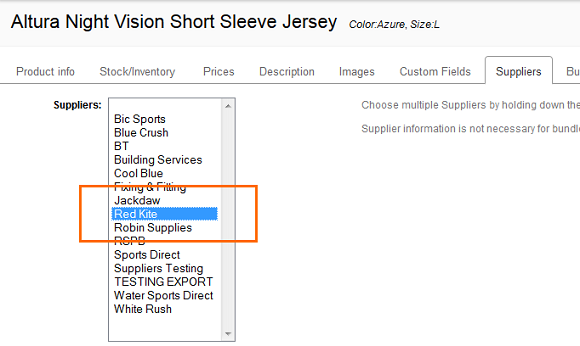 Deleting price lists
If a price list is associated with a contact or has been used on an order; then the price list cannot be deleted. You can associate a different price list with your contacts in order to delete the price list that was being used; however, you cannot change price lists on Invoiced orders.