Brightpearl uses Clickatell to send SMS messages. You will need to sign up for a Clickatell Developers Central account to integrate with Brightpearl and buy your credits from Clickatell.
Developers Central accounts are not available directly through the Clickatell website any longer. Please contact their Support team at support@clickatell.com to set this up.
Connecting Clickatell to Brightpearl
After registering for a Developers Central account with Clickatell, follow these steps:
Create an API connection ID on Clickatell
Log into your Clickatell account.
Go to the APIs menu.
Clickatell automatically sets up an HTTP API which is ready to use at Manage APIs. Alternatively you can create a new HTTP API.
So that you know what the API is being used for, you can edit the name of the API in Clickatell at APIs > Manage APIs.
Once you have an HTTP API, make a note of the API ID. You'll need to enter this in the Brightpearl set up.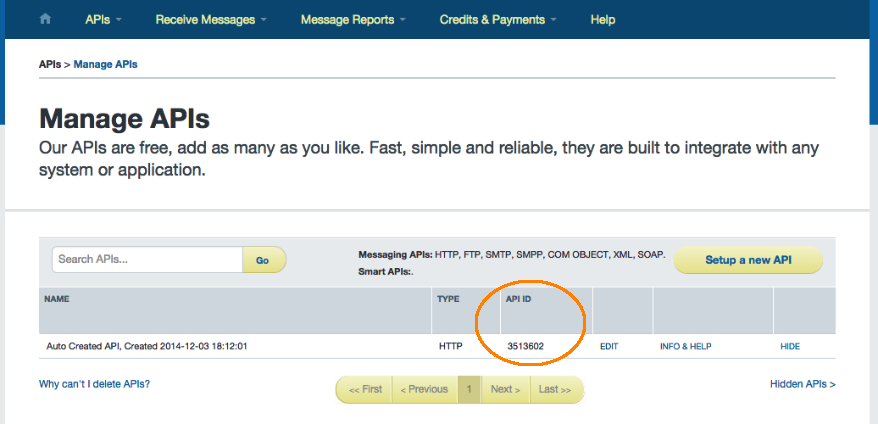 In Brightpearl, go to Settings > Brightpearl Apps > Clickatell SMS.
Enter the name you want your SMS to be from. You will also need to authorize the send ID with Clickatell.
Enter the API ID taken from Clickatell.
Enter your Clickatell account username and log in password. Note that if you ever update your Clickatell account password you will also need to update it here.
Save your changes and you're ready to start sending SMSes from Brightpearl.
Using SMS templates
You can create some templates to drop into SMS send windows to save time:
Go to Settings > Templates > SMS templates.
Click Add a new template.
Click Save.
You can use "merge fields" in your SMS templates, so that they are personalized and also relevant to the message. Fields available are:
#name#
Full name
#fname#
First name
#lname#
Last name
#order#

Order reference

(Only when sending an SMS from the order lists)

#invoice#

Invoice reference

(Only when sending an SMS from the invoice lists)

#salu#
Salutation of the contact, e.g. "Mr", "Mrs"
#user#
Full name of the staff member sending the message
Example SMS Templates
Credit chasing
Dear #salu# #lname#, Your invoice #invoice# is now overdue. Please ensure that your account is cleared as soon as possible. Thanks, #user#
Send an SMS when updating orders to "shipped"
Hello #fname#! This is just a quick message to let you know that your order has now shipped. Thank you for shopping with us!
Offer notification
Hello #fname# - limited offer at www.mystore.com - 10% off using discount code 7634JGH
Sending SMS messages
There are a number of ways to send an SMS:
To a single contact from the contact record
To a contact on an order, by clicking the Send SMS link next to the mobile number in the Addresses tab
To a batch of contacts from the contact list screen
To a batch of contacts from various sales and accounting reports
SMS sending will use up your Clickatell credits depending on the customer location. Since Brightpearl supports international SMS messaging, it's important to make sure that the contact has the correct country set, and that country has the correct dialing code. Go to Settings > Localization > Countries to create countries.
If you've opened the SMS send window from the order edit screen you can use any of the customer, billing or delivery addresses as the message template.
SMS log
You can see a record of all SMS messages sent to your contacts on the SMS Log in Brightpearl. Find the link to this report at Settings > Brightpearl Apps > Clickatell.
Two-way SMS messaging
Clickatell supports two-way messaging. However, it is not possible to send or receive these messages from Brightpearl.